Workplace Hygiene: Get ready for the "great return" to offices this autumn
Employers are busy gearing up for a "great return" to offices as the summer holidays draw to a close. With the UK economy in recovery mode and the Office for National Statistics reporting in excess of one million job vacancies in July, the country is beginning to believe it may truly be back in business.
There are, however, signs that there may be more trouble ahead, with growing fears of a fourth wave preventing long awaited return to work plans. In this post we look at what steps can be taken to keep workplaces hygienic and safe for all.
We must remain vigilant to reduce the spread, helping to save lives and avoid the re-imposition of restrictions aimed at stemming the transmission of the disease. One of the easiest and most effective ways we can do so is by maintaining proper levels of cleaning in the workplace.
Increase employee awareness and adherence to cleaning procedures
While employee attitudes generally have undertaken a seismic shift toward greater awareness of hygiene issues, further increasing employee awareness and adherence to cleaning procedures remains one of the simplest and most effective ways of upholding workplace cleaning standards.
Knowing the germ hotspots in the office will help ensure you keep your workplace as clean and healthy as possible.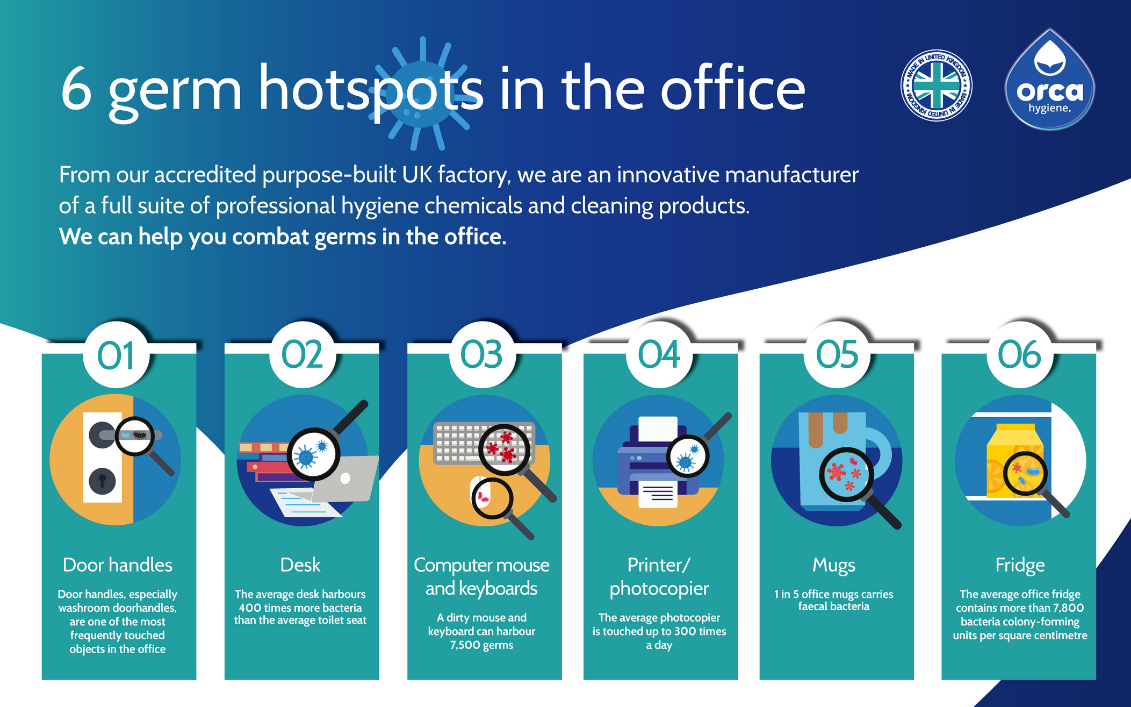 Encourage self regulation by providing easily accessible cleaning products
Encouraging self-regulation as regards handwashing, wiping down of communal touchpoints (like door handles, kettles and printers) helps to protect those undertaking the action as well as the wider workforce. Orca Hygiene recommends placing reminders to staff to sanitise their hands at regular touchpoints. For suitable hand sanitisation products, please see our hand and surface wipe collection.
Educate cleaning staff on cleaning procedures
Those tasked with carrying out the cleaning of the office should be made aware of the varying levels of risk associated with different areas of the building and different features within them. At a minimum, the government cleaning procedures be followed, which recommend that objects and surfaces which are frequently touched should be cleaned at least twice a day. For helpful guides reminding your cleaning team of the areas and objects to be particularly aware of, please see our collection of wall charts.
As the pandemic has progressed and we have learned more about the nature of the virus, our understanding of the things we can do to reduce its spread have changed. Procedures which we once thought might be the most effective means of maintaining hygiene may need revision. Orca hygiene would recommend that businesses undertake re-evaluation of their cleaning processes on a regular basis, tweaking them as necessary to keep them up to date.
Orca Hygiene supplies an extensive range of hygiene products and cleaning chemicals to resellers and distributors across the UK. From our UK factory, we provide fast delivery nationwide backed up by advice and useful resources to support our customers. If you are a reseller or interested in becoming a distributor, get in touch today to hear more about the Orca promise!