The continued path to recovery for hospitality and catering centres on hygiene
The last 18 months has been a challenging time for the hospitality industry, with the ONS reporting that the first half of the pandemic caused 81% of businesses to temporarily close and the second half being a maze of restrictions and setbacks making it difficult for those in hospitality to have any certainty about the path and longevity to reopening.
However, the uptake of vaccinations and advancing removal of restrictions has helped enable the hospitality and catering industry to welcome clientele again.
Although the hotel industry is on a path to recovery, it's Revenue per Available Room (a performance metric used in the industry) remains below pre-COVID times. Over the 2021 summer, European hotel revenue per room stood -31.8% below summer 2019 levels according to Hospitality On.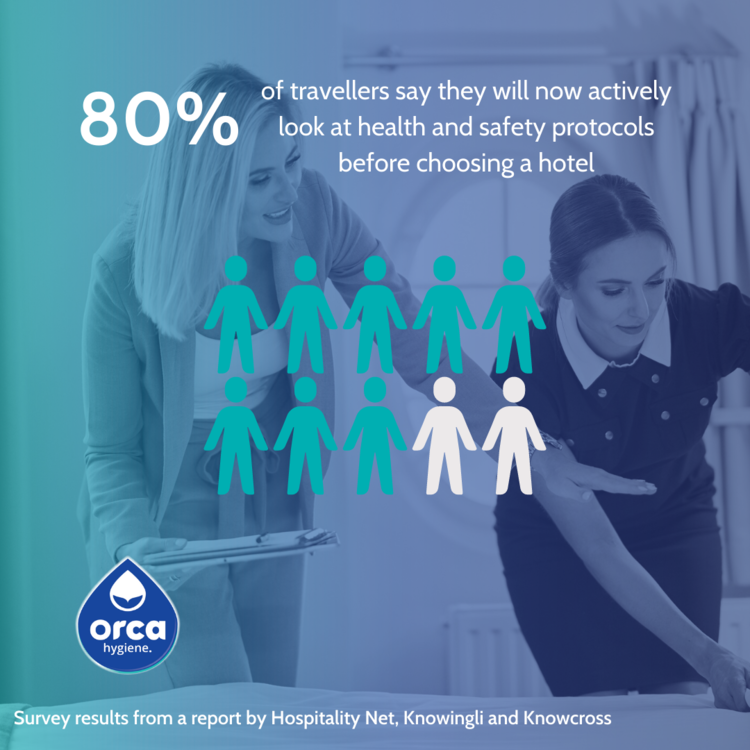 The COVID-19 pandemic has changed guests' perspective on cleanliness in hospitality and catering venues
Cleanliness and cleaning procedures have always been very important for the hospitality industry, but Covid-19 has thrust cleanliness into the lime-light. There has been a shift in the public's perception causing customers to have a much higher expectation around cleanliness with 80% of travellers saying they will now actively look at health and safety protocols before choosing a hotel, according to a report by Hospitality Net.
We look at best cleaning practices to ensure travellers' confidence and help hoteliers and eating establishments get back on track.
Protocols and Clear Communications are Key to Gain Travellers' Confidence
In order to meet and exceed customers' expectations, the hospitality industry should leverage their hygiene policies as a fundamental part of their communications, as guests are increasingly in favour of brands that lead with transparency when it comes to cleanliness.
The UK government outline 6 priority actions for people who work in or run hotels or other guest accommodation, restaurants, bars and cafes to take in order to protect staff and customers during coronavirus:
Complete a health and safety risk assessment that includes the risk from COVID-19
Turn away people with COVID-19 symptoms
Provide adequate ventilation
Clean more often
Enable people to check in at your venue
Communicate and train
Maintaining a Safe and Welcoming Environment
While employees and guests are much more observant of cleanliness, continually increasing awareness and adherence to cleaning procedures remains one of the simplest and most effective ways of upholding cleaning standards to maintain a safe and welcoming environment for everyone.
We bring to your attention some of the germ hotspots that you will need to pay close attention to in the front of house environment of your venue to help mitigate against the spread of germs.
To assist in setting cleaning guidance and procedures for cleaning staff, please refer to our collection of wall charts where you will find ones specific to the hospitality and catering sector.
Orca Hygiene supplies an extensive range of hygiene products and cleaning chemicals to resellers and distributors across the UK, with cleaning products specifically designed for the hospitality industry and catering sector.
Orca Hygiene combines the chemical know-how with superior customer service. From our UK factory, we provide fast delivery nationwide backed up by advice and useful resources to support our customers.
If you are a reseller or interested in becoming a distributor, get in touch.